Review expert suggestions before hiring house renovation services in North York
Home renovation is a delicate matter. It includes emotions, future plans, personal finances, etc. You must not take any chances. It is quite natural to get off the right track if you do not have sufficient preparation beforehand. By hiring a house renovation services in North York with proven records, experience, and reputation will bring you mental satisfaction. Your money will be spent wisely. When it comes to home renovation, many people desire to select a low-quality renovation service provider. It brings nightmares to the home owners.
In this blog we bring you top suggestions to choose the best house renovation services in North York.
Know your requirements thoroughly
Do you know requirements on how exactly you need to renovate your house? It's an odd reality that many homeowners hire renovation services and settle on a contract before they have a clear vision of their needs and preferences. It's important to prepare ahead so that you don't have to make adjustments to the project in the middle of the process.
Reputation of the house renovation services in North York
Seventy five percent of people in Canada now conduct online research before making a purchase because of the convenience and accessibility of the internet. See what others have said about a potential house renovation services in North York. See the service website. There you will see a wide range of reviews. See Google ratings, compare the services and budget. Look for any previous projects.
Do not stick to minimum quotes
The advice to "obtain three estimates" while searching for a house renovation contractor online is well knowledge. You can't be sure you're receiving a good depiction of the possibilities available if you're only considering three. The best option is to get as many bids as necessary to make a confident, well-informed judgment on a house renovation services in North York.
Always trust a professional
There are two kinds of service providers: professional by experience and reputation, and amateurs with do-it-yourself experience. It might be difficult for the average homeowner to tell the difference between skilled workers and those who do such DIY work as a hobby. Don't be shy about questioning the contractor and demanding confirmation of their experience and credentials.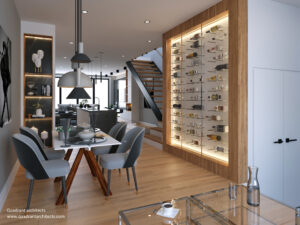 Analyze previous working experience
Research the renovation contractor's previous work. The internet has provided immensely helpful tools for homeowners to investigate possible house renovation services in North York. Those who have been in the business for a while usually have a portfolio of their work that can be viewed online. There will be no difference between what a professional renovation contractor offers and delivers.
Get everything on written
Documenting your project professionally is a mandatory task. If you're working with a reliable and competent house renovation services in North York contractor, they'll provide you with a detailed contract that spells out everything from how you'll be paying for the project to what will happen if you're displeased with the results. It will prevent an argument between you two. In every home improvement project, it's important to prepare for the unexpected. Make sure the contractor has required license, permit, and liability insurance. Inquire about the contractor's contingency planning, as well as how delays could influence your timeline and finances.
House renovation services in North York is at your service
Do you want to fall in love with your home again? If so, you need a reliable house renovation services in North York contractor with years of professional experience. Fortunately, your search ends with Quadrant Architects. Their home improvement services are among the best in the industry. They want you to have faith in the quality of their job. Learn more about what they can do for your home or business by getting in touch with them today.
Follow Our Facebook Page For More Updates