Our company is one of the top whole house renovation companies in North York.
A full house makeover, which is substantial and encompasses the majority of your home's primary components, may be necessary if you recently bought an older home or apartment or need significant changes where you already live. These projects involve removing the interior finishes and starting again, but you may also choose to keep some finishes that are still in good shapes, such as the wall surfaces, flooring, trim work, and the majority of the home's mechanical systems, such as the electricity, plumbing, and HVAC.
A complete house makeover might provide a variety of benefits that you might not have thought of.
Renovations can bring you these amazing advantages.
Making Your Home More Comfortable And Practical:
When you improve your property, you have the chance to create something completely special that represents your tastes. You enjoy the house of your dreams and still have a room that is more useful and practical.
Getting your energy costs down:
The majority of households have already seen an increase in their energy expenditures, and this pattern is likely to continue. Remodelling your home can allow you to reduce your energy costs. You might be losing heat via your home's old and worn-out doors and windows, which means it will take more energy to heat those areas to the right temperature.
Increasing the Value of Your Home:
Making improvements to your home might considerably increase its value if you want to sell it soon. Additionally, it might increase the level of enthusiasm prospective buyers have for the house.
What makes us the right choice?
Whole-house renovations can be challenging because it can be difficult to integrate different spaces while keeping their visual appeal. So that you may relax on your couch in a professionally designed home, our professionals at Quadrant Architects can provide you with knowledge and design. We think the entire house should have a distinct character, with separate spaces flowing naturally into one another, in order to establish that coherent sense throughout the house.
Our clients are so enamoured with the newly renovated kitchens that they want us to assist them in achieving the same custom looks and premium finishes throughout their homes, whether it be hardwood or engineered hardwood flooring, modern glass staircases, organized walk-in closets, basement renovations with custom bars, rec-rooms, bathrooms with steam and saunas, or any other home renovation.
It can be challenging to comprehend the licenses needed and the materials needed to design the ideal layout, but Quadrant Architects can assist. If you want your house renovation to turn out as beautifully as possible, you should think about employing a qualified contractor to handle the work for you. In comparison to doing the task yourself, this offers the added benefit of saving you time and effort.
A professional in-home remodelling can give you advice on whether your plans are realistic and suggest alternatives you might want to think about in their place. Connect with us to enjoy stunning and durable houses! Call us or send us an email to make an appointment at:
Modern House Design in North York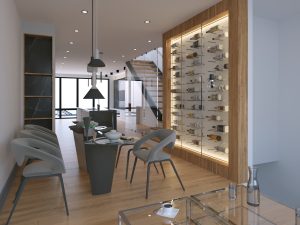 When it's about designing, it's the details that matter!
Let your house reflect your modern ethos!
We specialize in Modern House Design in North York.
Modernism essentially refers to modern thought. The Modernists were eager to break free from the Enlightenment's intellectual, artistic, and cultural standards and to push the boundaries and limits in terms of both culture and creativity. Along with this, there was a trend away from organized religion and the concept of a lone, all-powerful deity. The Modernists were interested in creating new standards and ways of life that were better suited to the drastically altered environment that had occurred since the Industrial Revolution.
It might be challenging to characterize modern design because it has many diverse manifestations. Contemporary interior design can be defined as the home's interiors reflecting the modern art movement in its most basic form.
Some key traits of modern design can be summarized by a few motifs.
The extravagant flourishes of preceding design eras, such as Gothic, Renaissance, and Victorian, were rejected by modernism. As a result, many of the various modern designs share a number of elements, and these design elements have come to be identified with modern design.
The earlier design eras, which used rich textures, carvings, and wood tones throughout the home, were designed to be contrasted with modern design. Because of this, the majority of modern design elements, including furniture and room shapes, feature simple, clean lines without any further details. Modern design's lines are harsher, sharper, and very sparse in comparison to contemporary design's curves and sweeping lines.
However, a variety of design styles, particularly for furniture, fall into this category.
Examples include:
the mission-style
Deco style
Shaker
All of these minimalistic pieces of furniture, as well as others, are essential to contemporary interior design. The furniture is paired with objects like:
large tiles with rounded edges
Wood flooring that has been sanded to reduce grain
Wall-mounted bookcases and shelves that don't protrude into the room
spacious layouts with minimal walls
missing mouldings on the walls, doors, and windows
Metal usage
Modern design is largely made of chrome and stainless steel. The use of sleek, polished metals can take the place of more conventional metal accents (like wrought iron).
Chrome or stainless steel is frequently used in furniture, such as table legs or the exposed frame of chairs. Home furnishings, including faucets, doorknobs, cabinet handles, lights, and railings, frequently feature chrome. Polished chrome has a very high polish with a little blue undertone that gives it a very frigid appearance, which helps it fit in well with modern design's goal of eschewing more traditional, "lived-in" forms.
Modern design, current modern design, and contemporary design all heavily incorporate minimalism. The fundamentals of minimalism include the idea that less is better when it comes to interior design. This implies that there aren't any extraneous details, including columns, mouldings, cabinet trim, excessive use of colour, or fabrics.
Although minimalist design can be perceived as sparse, in truth, it requires careful planning to make sure that everything in the house is truly necessary. Because they are designed for efficiency rather than comfort, minimalist homes are frequently much more comfortable than they appear.
The bulk of modern-styled homes is exclusively furnished with neutral hues and various tones of black and white. To help break up the neutrals and create focus areas, bold, frequently primary colours are employed as accents. These hues are rarely utilized as all-over wall colours and are frequently introduced sparingly.
Here are some instances of bold colour usage in contemporary design:
Imaginative wall art
A single piece of boldly coloured furniture, such as a crimson leather sofa or an orange plastic chair
a couple of toss pillows in bright colours
a single throw rug in a standout hue
a feature wall
Why should you choose us?
Our architects have years of experience in the field and can help you from start to finish with the construction of your dream home. Our portfolio of Modern House Designs speaks loudly of our experience in building modern, sleek homes. To book your appointment to have a consultation, call us now!